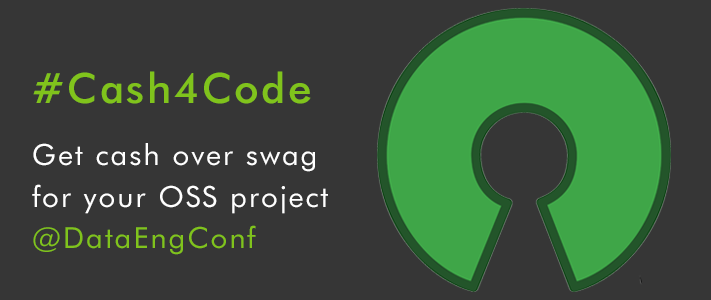 Conference swag is great, but cash is better. This year, the sponsors of DataEngConf NYC '16, which ncluded over 25 data science and engineering experts from top data, finance and media companies, decided to award one luck open source software project $2,000, plus free tickets to the next DataEngConf in San Frnacisco in Spring, 2017, in lieu of conference swag.
In designing this conference experience, we've opted to try a few things out, from utilizing a brand new industrial space located in the Brooklyn Navy Yard, to creating spots for office hours with speakers, and deeper interaction over lecture-style talks.
Among those new initiatves, the "Cash4Code" open source software contest dovetails with conversations that have been happening in the open source world on issues such as lack of software funding, which you can explore further in Nadia Eghbal's writing. As a way to support the OSS community, Cash4Code aims to create awareness about remarkable open source projects that lack major sponsorship and funding.
Rather than having sponsors spend money on "swag", we've asked them to pledge the money to underrecognized open source projects instead. As someone who has attended a ton of conferences, I've grown to avoid picking up swag bags. Sure, I may take something home of interest to my kids, a squishy this or that, but then it invariably ends up in the trash. The fancy speaker gifts are even worse - I have a Bluetooth speaker that still sits in its box 4 years later. If I had wanted a Bluetooth speaker I would have bought the model I wanted, but now I've got a collection of plastic, metal, and chemicals which might literally go from cradle direct to grave.
The way Cash4Code works is sponsors pledge funds (rather than swag) towards the open source project that receives the most submissions by event attendees. While submissions are open to any open source software, voters are encouraged to submit projects that are impactful to either data science or engineering but are also in need of funding. For example, while Spark has made a major impact on data engineering, a project like Pandas, developed by Wes McKinney, would be better suggested as it has not attained nearly as much funding as the Spark project which is backed by Databricks.
Voting is now closed. To discover the lucky open source winner and finalists, visit our Cash4Code contest page.