With COVID-19 forcing almost one billion people to shelter in place around the world, many people have turned to new activities, such as drawing, baking, gardening… or online learning. If that doesn't sound like you, don't feel guilty by any means – sometimes, surviving is enough! But if you want to get more knowledgeable about data science, data engineering and artificial intelligence, we are here for you.
This is why we came up with this list of courses that can help you prepare for a future job in the data field, upgrade your existing skills, or just satisfy your personal curiosity. From free entry-level courses to full-time bootcamps, here's our selection for you to check out:
Elements of AI: Finland's Gift to the World (free)
The Elements of AI online course comes with an ambitious goal: educate 1% of European citizens in the basics of AI by 2021. While it may sound like a stretch, it already achieved this milestone in a matter of months in its home country, Finland. Thanks to the University of Helsinki and Finnish technology firm Reaktor, anyone can now freely access the course and complete it at their own pace. It features lessons and exercises on basic aspects of neural networks and machine learning, as well as reflexions on their societal implications. The course is already available in English, Finnish, Swedish, Estonian and German, with other languages to follow – as well as a second course on 'Building AI'.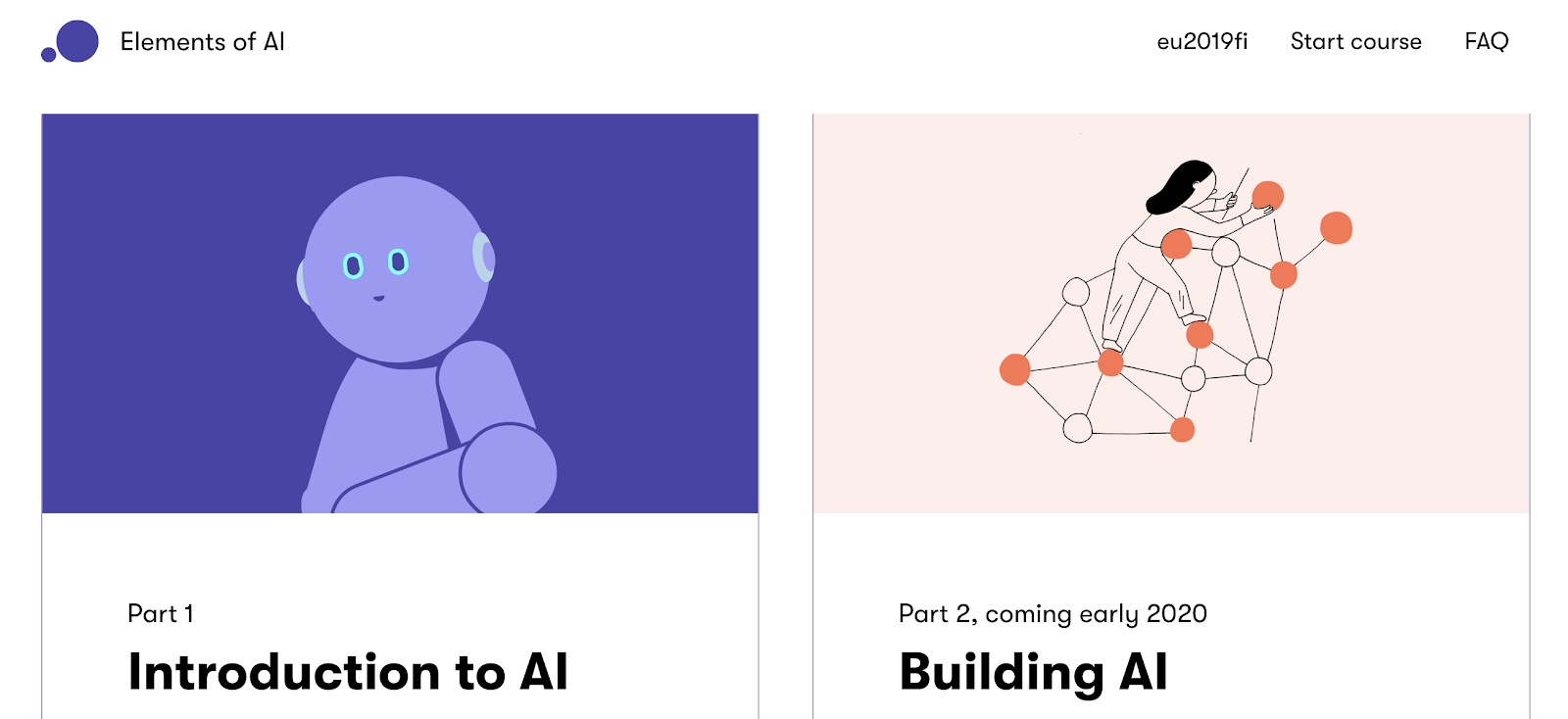 Fast.ai's MOOC: Practical Deep Learning for Coders (free)
Now in its third version, Fast.ai's MOOC is called "Practical Deep Learning for Coders." "Practical", because it teaches skills to actually use deep learning at work and create state-of-the-art models. "For coders", because it assumes that students have been programming for at least one year. If they don't know Python yet, they should also be prepared to learn it as required in parallel to the course, which uses the PyTorch library. Still, the barrier to entry is still pretty low, with a GPU as the only other prerequisite.
IBM offers a large range of courses for students and for professionals. Several of the latter are available on platforms such as edX and Coursera, focusing on skills that strongly resonate with Data Council's focus. For instance, the IBM AI Engineering Professional Certificate on Coursera consists of 6 courses: Machine Learning with Python; Scalable Machine Learning on Big Data using Apache Spark; Introduction to Deep Learning & Neural Networks with Keras; Deep Neural Networks with PyTorch; Building Deep Learning Models with TensorFlow; and AI Capstone Project with Deep Learning.
DeepLearning.ai: Learning with Andrew Ng (freemium)
Did you know that Andrew Ng's machine learning course was the MOOC that led to the founding of Coursera? With over 3 million enrollments to date, this Stanford course is definitely worth looking into – but we also wanted to highlight other courses offered by Ng's own venture, deeplearning.ai. These include not only well-publicized 'AI for Everyone', but also specialized program 'AI for Medicine', as well as a Deep Learning specialization consisting of 5 courses available on Coursera.
DataCamp: 14 Career Tracks (freemium)
DataCamp is an interactive online learning platform for data-related skills. It has a "freemium" pricing model, with a free tier limited to the first chapter of each course, an intermediate 'basic' plan, and a premium plan with full access to all courses. The current tally of courses is more than 300, which can be browsed via career tracks (Data Scientist, Data Engineer, Machine Learning Engineer with R or Python…) or skill tracks (Image Processing, Data Manipulation…) depending on your goals. Several introductory courses can also help you get up to speed before diving into more specialized content; and an online assessment can help you evaluate where you stand.
Dataquest: Learn by Coding (freemium)
Dataquest is another interactive online learning platform for data-related skills, and one that focuses heavily on project-based learning. As a tagline on its site puts it: "Learn by watching videos coding!" Its courses are structured around 4 career paths: Data Analyst in R and Data Analyst in Python, which are part of its Basic plan; while Data Scientist in Python and Data Engineer require a premium subscription. It's also worth mentioning that some of its content is free, including the first 2 courses in each path.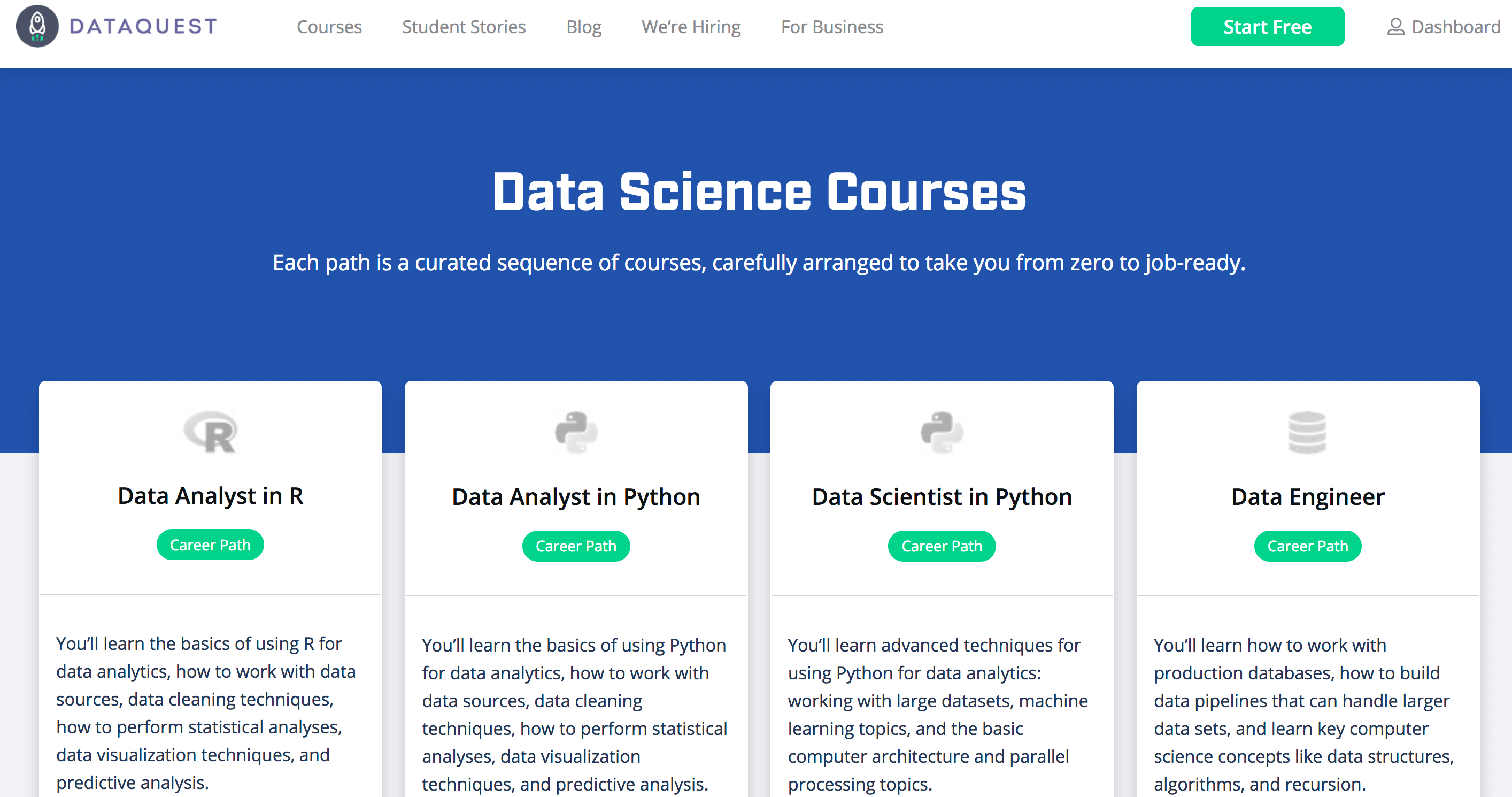 Let's mention it upfront: this 10-week bootcamp comes with a €5,950 price tag. However, it also differs from other courses we listed in other ways; starting with its 'women-only environment'. According to its creators, it results in "a safe space [for women] to be the majority for once, be able to relate with each other, having other women as role models." As for content, the Data Science program covers Python, data analysis, machine learning, NLP and AI. Due to COVID-19, it will start as remote learning, before moving back to in-person at allWomen's Barcelona location when circumstances permit.
Due to COVID-19, the entire Galvanize Data Science program moved to "live online instruction and delivery" as a precaution, which is actually good news if you weren't going to be able to participate in person. The next session starts on June 29, and there's a prep course you can complete for free in the meantime. The program itself costs US$17,980 when paid upfront, with several financing options, including income share agreements (ISAs). It is also worth mentioning that it is eligible for VET TEC, the 'Veteran Employment Through Technology Education Courses' tuition program for US military veterans.
CodeOp's mission is "to encourage women, trans, and gender nonconforming individuals to pursue fulfilling careers in tech; to equip them with the skills needed to become leading developers and data analysts in their fields; and to launch a supportive network of professionals who will transform the culture of tech". Its next online data analytics bootcamp starts on May 4 and costs €7,800, with scholarships and deferred payments options available. It consists of 6 project-based modules, starting with programming and culminating in geospatial analysis of a city. Along the way, students will also learn how to use virtualized Linux applications with Docker, and query data using SQL and NoSQL approaches.
Ironhack's Data Analytics bootcamp typically trains students interested in becoming junior data analysts or junior business intelligence analysts. In response to COVID-19, classes will take place online until on-campus courses can resume. The course is normally available in 8 of Ironhack's campuses around the world: Amsterdam, Barcelona, Berlin, Lisbon, Madrid, Mexico City, Paris and São Paulo. Prices vary slightly depending on the location you pick and whether you choose to study part-time or full-time; for instance, the Lisbon full-time one is priced at €7,500.
While Insight's remote offering is usually limited to its Data Science program, the COVID-19 outbreak led them to decide to run all of their Summer 2020 programs remotely. This includes their Data Engineering program, a 7-week full-time training that will teach you to build scalable, distributed data pipelines. Insight's network is also a key component here, with mentorship during the program and targeted efforts to help alumni land jobs. Many Insight alums have presented and participated in Data Council over the years.
As you can see, there are plenty of options to learn data-related skills online. It is now up to you to pick and choose the one(s) that will best fit your needs and expectations.