Apache Superset is a very popular open-source project that provides users with an exploration and visualization platform for their (big or not-so-big) data. For instance, it can be used to create line charts, but also advanced geospatial charts and dashboards that support queries via SQL Lab.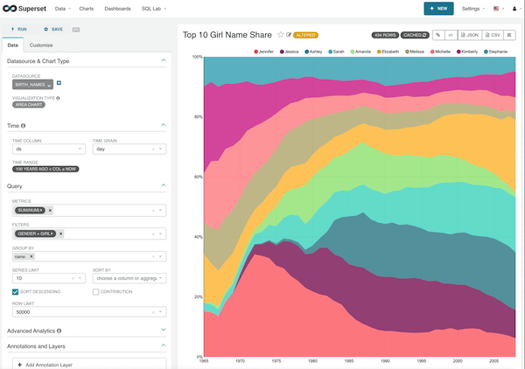 Initially known as Panoramix, then Caravel, Superset was originally created by Apache Airflow creator Max Beauchemin, who was working for Airbnb at the time. Airbnb open-sourced the project in 2016, and remains highly committed to it, having added many developments to maintain it as the core of its BI self-serve solution.
In addition, Superset became a Top-Level Project (TLP) of the Apache Software Foundation in January of this year, with users that include American Express, Dremio, Lyft, Twitter, Udemy, Zalando, and many others.